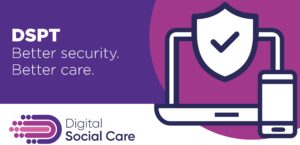 All adult social care providers, including services like day services which are not registered with CQC, can access national support from the Better Security, Better Care programme in order to complete the Data Security and Protection Toolkit.
National support includes:
Webinars on the DSPT
Book a webinar: Join one of our regular national webinars on using the DSPT for the first time, reviewing and republishing your DSPT, and what's changed for 2022-23.  Or contact your Local Support Partner about local workshops, webinars and one-to-one sessions.
Webinar recordings: Find recordings and presentations from previous webinars including: DSPT and access to health and care records; tips on reducing the risk of a cyber attack; local authorities, the NHS and the DSPT.
Online resources
Detailed guidance to help you to complete the DSPT, including step-by-step guides and films
Template policies and resources that you can download and adapt for your organisation
Frequently Asked Questions on the Toolkit
The Digital Social Care helpline
0808 196 4848 or email [email protected]. 9am to 5pm Monday to Friday