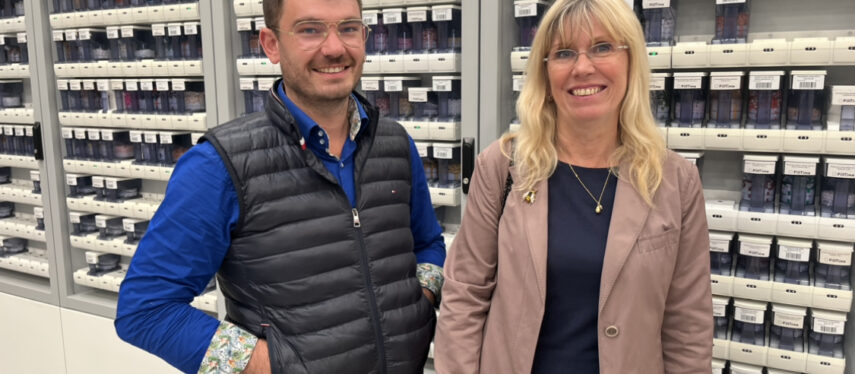 AbleCare Homes: Streamlining Medication Management with PillTime
In the world of care, when it comes to medication management, accuracy and efficiency are key to a smooth-running service and AbleCare Homes, with its six care homes across the South West, know this all too well.
AbleCare's Managing Director, Sam Hawker, shares their story about how they made the transition from a traditional medication management system to one that utilises robotics and AI technology to pouch medications and ensure the dose is correct. ​
The search for an alternative
Initially, AbleCare relied on a national chain pharmacy for medication management services. However, they found that they were providing fewer services, with rising costs and interim medication deliveries becoming difficult to manage. The EMAR (electronic medication administration record) systems they were using were costly, and the training was extensive, which ended up proving time consuming and challenging to oversee.
In their search for a better solution, a flyer from PillTime came through the door. What caught their eye was the innovative approach PillTime took to medication management. PillTime's packaged tablets arrived ready to go in clearly labelled pouches so that staff could simply tear open the pouches and administer them. This was a huge improvement from traditional medication boxes that included bottles of residents' tablets, leaving staff to dispense multiple times a day. As Sam explains,
"The pouches were organised by day and time-of-day, making it really easy for staff to dispense in confidence. This approach streamlined the administering process and reduced the chance of errors that staff could make."
The PillTime experience
Eight months into their journey with PillTime, AbleCare has seen huge improvements.
Anticipated challenges in adopting the new system were effectively addressed when PillTime invited AbleCare to their factory to gain a comprehensive understanding of the system. As Sam explains,
"Taking staff to the factory, giving them the opportunity to ask questions and understand how the system works really benefitted them and increased confidence."
PillTime, established in 2016 by a pharmacist with a vision, uses AI and robotics to dispense medications. They receive NHS prescriptions and pre-sort medications into clearly labelled, easy-to-open pouches, ensuring precise and error-free administration – there are​ 1 in 50 errors in manual dispensing compared to 1 in 1,000,000 errors in pouching!
The PillTime advantage
AbleCare recognises the advantages of collaborating with a trusted NHS pharmacy like PillTime. Having the opportunity to interact with the individuals behind the system adds a personal touch that may be absent in larger, more distant corporations.
One of the most significant advantages for AbleCare, however, has been the boost in staff confidence. Knowing that their medication administration process is now backed by PillTime's robust quality assurance process has eliminated concerns. They no longer need to worry about the accuracy of their medication management as the system has a thorough sorting mechanism in place with multiple automated check points.
Ever evolving, AbleCare has also transitioned towards using more proxy ordering, seamlessly integrating digital solutions into the care homes daily routines. This shift has led to a significant reduction in paper records, meaning a huge decrease in document storage and most importantly giving staff back valuable time that can be spent with residents.
AbleCare's journey to digital medication management with PillTime demonstrates the potential innovative technology has in streamlining processes and enhancing the overall quality of care that services can provide.
Further information
Back to Success Stories