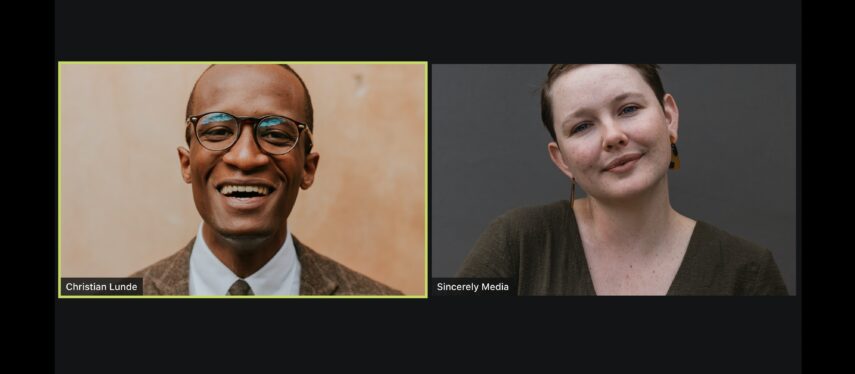 BelleVie: video inductions and online training
Since its inception, BelleVie has always conducted some of its training for staff via the online platform Qintil. But now in the middle of the pandemic, the team are turning fully digital to recruit, induct and train new staff.
BelleVie is a social care provider that delivers support for older people and people with learning disabilities in their own homes.
Background
BelleVie has been operating for the last 12 months in partnership with Wellbeing Teams, the first self-managing home care company to be rated CQC Outstanding.
BelleVie use an online learning platform, Qintil, to support the induction process and continuous training of their staff, known as Wellbeing Workers. New recruits have several training modules to complete online via the Qintil portal. Managers can view a matrix, which allows them to see who has completed which modules. Staff can also monitor their own progress through the matrix.
Mary Curran, Chief Care Officer for BelleVie, explains:
"It's brilliant to have all our training in one place. There's training already provided, but you can also upload your own bespoke modules. Having the matrix with it allows me to generate reports for quality and CQC purposes. With a few clicks of a button, I can check that everybody is compliant."
Using the platform BelleVie can make some of the training mandatory, depending on which team people are in and what kind of support they are providing. Staff members can also self-manage their own training by choosing from other learning available, like dementia training, depending on their interests.
How the COVID-19 pandemic has changed recruitment and induction
The team recently recruited a team of Personal Assistants to work with two autistic adults in Caversham near Reading. The BelleVie team would usually hold staff inductions face-to-face, but because of the pandemic, they needed to adapt it to take place online.
The team set up a five-day induction programme that took place online via Zoom conferencing. The team ensured it was interactive and varied, with small group breakout sessions as well as guest speakers.
One guest presenter was an autistic man, who was able to talk about his experience of living with the condition. By making the content diverse and engaging, it kept the attention of participants. The sessions were also recorded so that other staff could benefit from watching the videos at a later date.
BelleVie has also been using Zoom to recruit staff during the pandemic. Mary explains:
"We've never conducted interviews in a traditional fashion, we've always brought people together for recruitment workshops for them to do exercises in small groups. This way we can assess how people display their values, how they support one another and what ideas they come up with."
Recruitment still needed to continue, so Mary and the team devised an online recruitment workshop for candidates based near Oxford. Using a mix of talks with slides as well as exercises in breakout groups, they were able to go ahead with the workshop virtually.
Mary says:
"It worked really well. The only thing it lacked is that when you do it face-to-face people do bond over making a cup of coffee together, but people told us that the breakout sessions really helped with that. We also encouraged the smaller groups to have a coffee together online. At the end of three hours, candidates said the group already felt like a team."
BelleVie had been using online conferencing before the pandemic, which Mary says made the switch to online much easier. She explains:
"Because of the way we work with teams self-managing, the entire care team always gets together once a week on Zoom or Google Hangouts, so being fairly techie before the pandemic has certainly helped. But it shouldn't put you off if you haven't done much online before."
Future changes
Using digital tools more extensively during the pandemic has made them evaluate how they will conduct their meetings and workshops in future. Mary says:
"We'll still be using face-to-face training alongside online, but we'll definitely be thinking about how we can do more online. We secured some fantastic guest speakers for the workshops because they didn't need to travel, so we're seeing real benefits to online."
Lessons learnt
Online learning means you can have all your training in one place and allows for swift reporting
Ensure every member of the team has access to the technology they need
During online workshops, introduce some social time so people can get to know each other
Ensure online meetings contain varied content to keep people engaged.
Costs
Providers who are members of the National Association of Care and Support Workers (NACAS) get Qintil for free. NACAS membership is £1 a month per care professional.
Further information
To find out more about BelleVie visit www.belleviecare.co.uk or call Mary Curran on 01235 355570.
Back to Success Stories