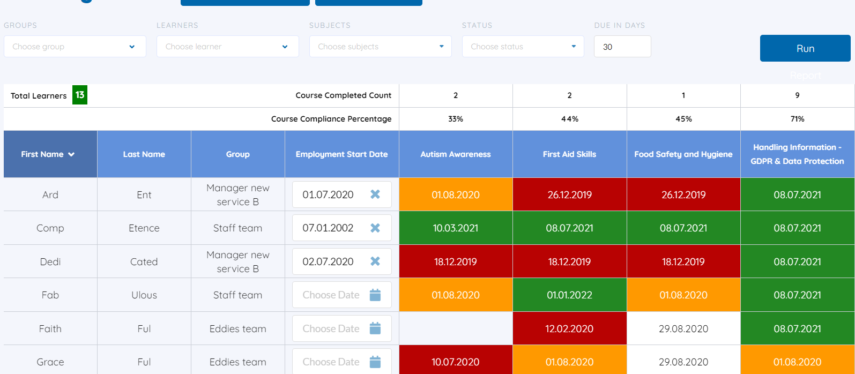 Dimensions: taking learning online
Dimensions is a not-for-profit organisation that supports people with learning disabilities, autism and complex needs. With over 7,000 staff in England and Wales, the team has been using online training software to keep track of learning and ensure consistency across the organisation.
Background
Staff at Dimensions began using an online learning system after finding that traditional training processes involved a lot of paperwork and were time consuming.
Sarah Baiden, Qualifications and Assessment Manager at Dimensions, says she found out about a company called Grey Matter Learning at a Skills for Care conference.
She said:
"We felt an online system would be much more efficient and would allow us to have everything in one place."
Grey Matter Learning is a social care learning technology company which provides a blend of online and face-to-face or webinar training. All the courses are mapped to the Skills for Care core and mandatory guidance and CPD certified. The training includes All Wales Induction Framework, Manager's Induction Standards and the Care Certificate.
How it works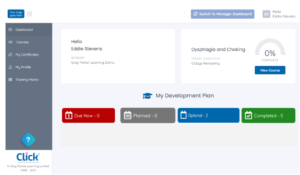 The online learning platform, called Click, has a variety of courses available. Each one has fun and engaging content designed specifically for the social care sector. Using an easy-to-understand format, courses have a mix of images and activities to keep the learner's focus.
Courses are translated into different languages or you can have the training read aloud to you. These tools help people with dyslexia or English as a second language.
Sarah said:
"Colleagues can start and pause their assessments, returning to them at any time. It allows for flexible completion of the standards, whilst balancing work commitments."
Every staff member has their own login for the system, where they can see their personalised dashboard which details what training they need to complete and when it's due. Managers have access to a specific dashboard to oversee their team's progress. It also provides a training matrix with the records you need for CQC inspections.
While Dimensions use the platform for the Care Certificate, All Wales Induction Framework and Manager's Induction Standards, Grey Matter Learning also contains specialist courses such as autism, dementia and end of life care. Learners can train on core skills, such as health and safety, infection prevention and CQC inspection preparation.
Benefits
Sarah explains that by having the training online, managers save around 25% of their time, taking away a lot of administrative burden. It standardises the organisations Inductions Standards learning and means they have a robust process in place.
Each course is based on a framework linked to Grey Matter Learning's "Know, Understand, Do" methodology, which assesses the knowledge and competency of staff.
Sarah says:
"What we liked about Grey Matter Learning was that the system focusses on gaps in knowledge. It means that learners aren't repeating things they already know but concentrating on where they need additional knowledge and understanding."
Advice to other providers
Pilot a certain area of learning first rather than taking everything online from the start. It won't take long to start seeing a difference.
Make sure you have a way for staff to feedback on their experience of the platform so that you can improve things as you go.
Communicate well with the company that you choose so they can be responsive to your needs.
Costs
Grey Matter Learning is funded by various Local Authorities and so could be free to use in your area, get in touch with them to find out. Alternatively, you can subscribe to unlimited learning from £2 per person per month: https://greymatterlearning.co.uk/social-care-courses/pricing/
Further information
To find out more about Dimensions, visit www.dimensions-uk.org
For further information about Grey Matter Learning, visit www.greymatterlearning.co.uk
To get a flavour of the courses check out the free courses, or see the full course list here.
Back to Success Stories