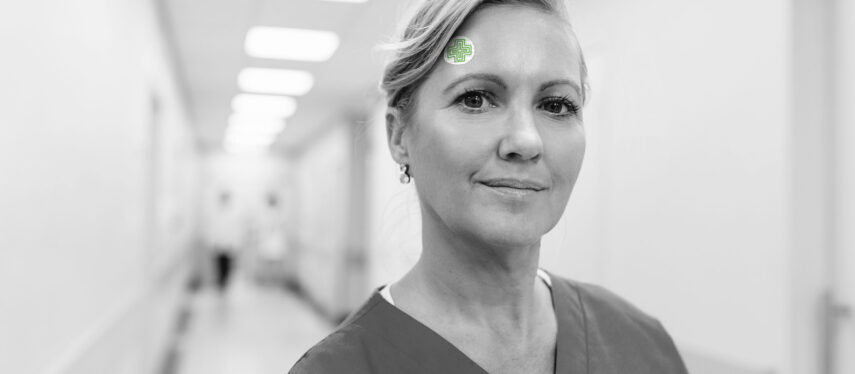 Elan Care: identifying high temperatures using innovative plaster
A high temperature is one of the body's first signs that someone is unwell. Getting early warning of a high temperature can help identify that there's a problem, meaning you can get the right treatment quickly.
Elan Care, a supported living community in Hartlepool, is using a new temperature indicator that's as simple as applying a plaster.
Background
Elan Care provides care support to people with learning disabilities, autism, mental health conditions and complex needs.
Marie Robson, Head of Operations at Elan Care, said:
"Some of the people we care for have difficultly verbalising when they feel unwell, but it's vital for us to pick up any potential issues quickly. Particularly with COVID-19, we knew we needed a tool that would help give us an early warning sign of high temperatures."
Staff and service users have been trialling the Visual Temperature Indicator (VTi). It's an adhesive disc applied to the head, which accurately monitors the wearer's body temperature. The VTi immediately alerts the wearer, or carer, of an increase of temperature by changing colour.
How it works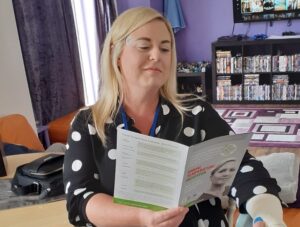 The disc is water resistant and worn on the person's head for up to 5 days. It continuously monitors the wearer's body temperature by using thermoreactive technology.
Displaying green when normal, the disc changes to a shade of red when it rises to 37.5C. If the temperature rises to 38C, the VTi symbol will turn bright red, indicating that immediate action should be taken.
When the wearer's temperature returns to within a normal range, the indicator reverts to green.
The discs aren't affected by exercise or hot showers and users can simply look in the mirror to check the colour. Staff can watch out for any colour changes at a safe distance from others.
Marie explained:
"It doesn't replace good care or using regular testing, but it does act as a brilliant first warning sign. It gives us another layer of safety and peace of mind. Plus, it's not intrusive for the people we care for."
Marie highlights that it's also cheaper than batteries and covers for digital ear thermometers, however these are still used when necessary.
How it helps
Marie explains that the disc has identified high temperatures in a number of clients who couldn't verbalise that they felt unwell. Further investigations have shown up issues like urinary tract infections, which Marie says they were able to pick up early thanks to the VTi disc.
Marie said:
"It makes the complicated task of large-scale temperature health monitoring simple. The camaraderie and everyone looking out for each other has also been wonderful." 
Staff at Elan Care also wear them. For senior team member, Trina Robinson, the VTi helped her to identify a potential health issue at the earliest opportunity, minimising risk to herself and those around her.
Trina said:
"A colleague pointed out my VTi was red and we confirmed my temperature was high with secondary healthcare checks. Within 10 minutes I left the site to follow guidelines. I was later diagnosed with an ear infection, thankfully nothing more serious." 
Protecting the community from COVID-19
At Elan Care the discs are also used by relatives that come to visit their loved ones.
Marie said:
"We ask relatives to wear them when they come to visit. It gives relatives and staff peace of mind that they can visit in safety. We've found that visitors really appreciate that we're being proactive about everyone's safety during the pandemic."
Lessons learnt 
People will quickly get over any worries about what they look like wearing one
If the whole community wear them – including staff, service users and relatives – it helps make it normal and brings about a community feel by people looking out for each other
By being able to look in the mirror at the disc, it encourages service users to feel independent and in control of their care.
Costs
Prices start at £2.99 for 10 discs, with discounts for larger purchases.
For more information
To learn more about Elan Care, please visit www.elan.care
For more information about Visual Temperature Indicator, visit www.vti.care or call 01787 471454.
Back to Success Stories