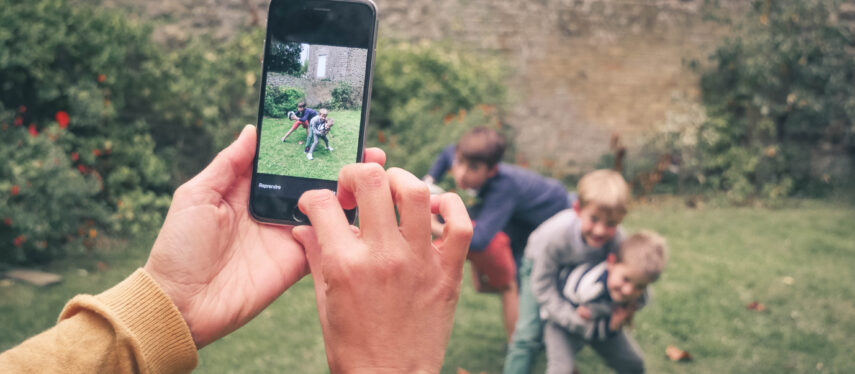 Famileo: keeping families in touch with personalised newspapers
Sitting down with a newspaper is part of many people's daily routine. Now a new app allows relatives of care home residents to make their own newspapers, all about the news of the family.
As loved ones are being forced apart by the pandemic, the app is helping people to stay connected in a way that older adults are comfortable with.
Background
Sandra Leckey is a dementia reminiscence therapist working in care homes in Northern Ireland. This kind of therapy is run by professionals who use photographs, familiar objects and music to trigger personal memories.
Sandra explains: "I'm always looking for memories I can tap into with a resident, so families are key to helping me find out more about them. With the pandemic, visits from families have had to stop and I wanted to find a way to help keep the connection between them going."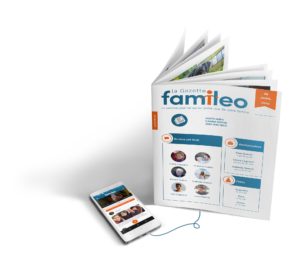 Sandra has been trialling an app called Famileo, where families upload information and photos, which are then made into a physical customised newspaper.
Due to infection control they can be printed out by the care home.
Sandra continues: "Getting news from families keeps them connected. It's very uplifting for people to be able to read news from their family and see wonderful photos. At the moment in particular, it's a lifeline."
How it works
Once the care home has subscribed to Famileo, family and friends download the app on their smartphone, tablet or computer. They can then easily upload photos and messages to the app. The platform is confidential; relatives can only access pictures and messages from their own family.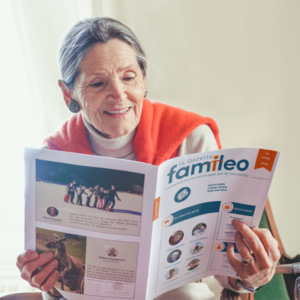 Famileo then reorganises the content and formats it all into a folded magazine. Each week the newspaper is printed and delivered to the resident.
It improves communication between the family and the resident and can provide a vital tool to keep in touch.
Sandra explains: "Families can upload old photos, from the resident's youth or important times in their life. I often use old photos in my reminiscence therapy; I'm passionate about how revisiting old memories can help dementia patients. When I give residents their newspaper they just light up."
The newspaper has big colour photos and a large text size for easy visibility. With up to 60 messages per newspaper, the number of pages adapts to the content.
Families are encouraged to post anecdotes, family photos, happy memories and photos of pets. Each newspaper also contains reminders for the reader, like the dates of birthdays.
Benefits
For residents under restrictions due to the pandemic, Sandra has found that some in Northern Ireland are only able to have one video call with their family each week. Using Famileo allows families to keep in touch.
Sandra says: "One of the men I work with is in his 70s and his family have recently put in his old wedding photos into his newspaper. I had a wonderful session talking to him about his wedding and his married life. It also contained recent pictures of his grandchildren in Dubai and it brought him so much joy."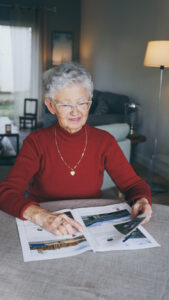 Having something physical means it's tangible and residents can pick it up and reread it at any time.
Famileo is also a solution to improve communication from the care home to families. On the Famileo app or website, relatives can read news about the care home and their loved one. It's a real plus for care professionals who are often overwhelmed with enquiries about the day-to-day activities in the home.
Sandra concludes: "It's a really simple but effective solution. Now more than ever we need technology to help us stay connected to our loved ones."
Costs
Famileo starts from £45 per month for care homes with less than 50 residents. This is an 'early bird' price offer for 2020 only.
Until the end of 2020, you can get a free 4-week trial.
Contact [email protected]
For more information
To find out more about Famileo visit www.famileo.com
You can read about dementia reminiscence therapy on Sandra Leckey's website: www.rememberwhenltd.co.uk
Back to Success Stories