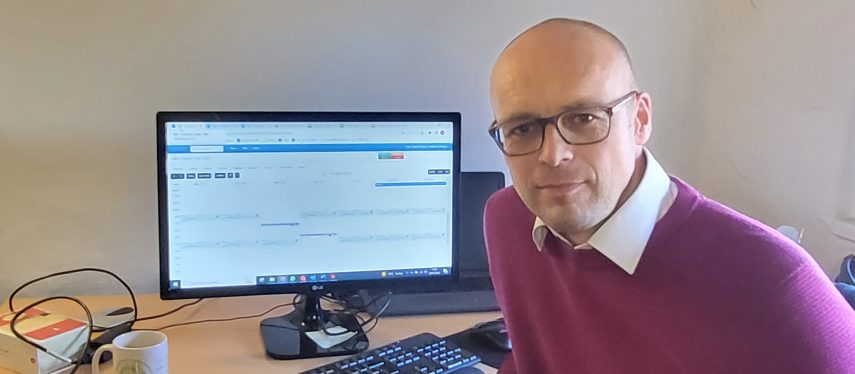 Gardiner's Homecare: implementing person-centred technology
Gardiner's Homecare is a family run domiciliary care provider based in Reading. They decided to introduce a new care management and staff rostering system, Plait by ReallyCare, to improve staff wellbeing and provide a more person-centred approach to care.
Background
Gardiner's Homecare have been using technology to help deliver care for a number of years, although they only recently discovered with the introduction of Plait that some technologies are able to maximise staff time and deliver care in a holistic manner that benefits both the business and the clients.
They decided to make the switchover when they noticed that a large amount of staff time was spent rectifying minor errors in an outdated system. As John-Joe, managing director, explains:
"We were unhappy with the lack of development in our current software that felt very outdated and expensive. We knew things could be done a bit better that would improve the experience of care staff so made the decision to switch over to Plait."
How it worked
Setting up a new care system is never going to be easy, but as John-Joe explains, planning ahead and receiving the right support will make it as seamless as possible:
"ReallyCare provided excellent support and thought through problems beforehand. Of course there were unexpected issues that trip you up, but having someone to speak to and help made all the difference. We arranged the date with ReallyCare who made sure they had someone available to support any technical issues we would encounter.

"We tested the system out beforehand with fake clients and staff. Our staff came on site for 1-2-1 demos to make sure they understood and were happy with the software. We recorded a video explaining how to use it which staff also found helpful."
The outcome of the project
The Plait technology by ReallyCare has allowed Gardiner's Homecare to make the most out of staff availability and reduce administration time. John-Joe explains the benefits:
"The system helps staff to manage their diaries better by being able to see the month in advance. It's also great for when they are visiting a new client, as previous visitors can leave important notes. We have found that this has helped to reduce anxieties staff tend to have when visiting a client they might not know very well.

"Warning alerts are very clear on the app, and carers are able to flag summary reviews if they have detailed any important issues. They can add to the summary log during or after their visits and care plans can be updated in real time at the touch of a button."
One important aspect of technology is its ability to involve the client in their care plan. John-Joe explains how the Plait software achieves this:
"Client's or their family members also have access to the technology, and can easily look at their notes and care history. They are able to view who is coming and when, which helps them to stay well informed with their care plan.

"Plait can also suggest which carers to book for which duties based upon a variety of criteria such as distance, number of times they have visited before, and more. You can then set the weighting based on these factors."
Advice to other providers
Technologies that save staff time and involve the client in their own care plan will improve outcomes for everyone.
If you're unhappy with your current provision, making a change doesn't have to be as hard as you think. A good supplier will work with you to ease any pressures.
Think about your staff and what you can do to make the transition as easy as possible for them.
Further information
For more information, please see:
https://youtube.com/@reallycare
https://gardinershomecare.co.uk/
Back to Success Stories