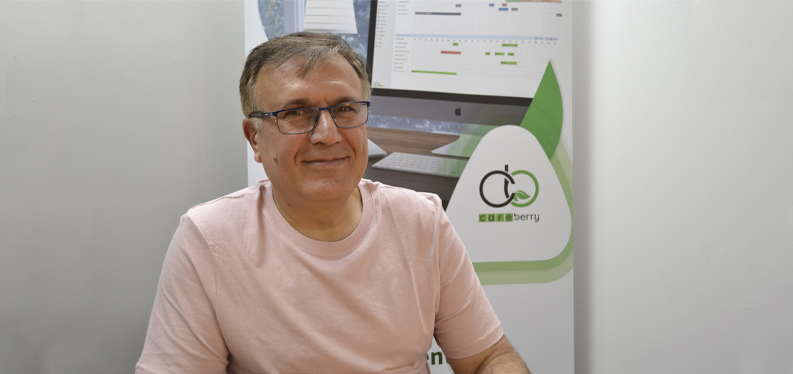 Homecare service accepted onto NHS Topol Digital Fellowship
The team at Digital Social Care were delighted when we heard that an Adult Social Care provider was successful in applying for the Topol Digital Fellowship Programme. The programme provides successful applicants with the opportunity to design and deliver a digital project that will help to accelerate digital transformation in health and social care.
Previously, the programme had only been available to NHS applicants and this is the first year that applications were made open to social care. We caught up with Hossein Sharifi, Managing Director at Care & Carers, to find out more about what sparked his interest in digital innovation and how he came to apply for the fellowship.
"My experience in care spans many years, starting with a role as a support worker in a mental health setting, and continuing with further study of evidence-based healthcare at the University of Oxford. In 2017, I was asked to assist a homecare provider with improving their services, and it quickly became apparent that there was significant disorganisation, with carers regularly failing to turn up to their shifts and inaccurate notes being kept. It was at this point that I became acutely aware of the pressing need for improvements in the care industry. My longstanding interest in digital technology motivated me to create a solution, and in 2019, I developed Careberry Software, an all-in-one care management system designed to streamline and improve the delivery of care services".
Hossein's software went on to win a digital innovation award and is now used across the UK in both homecare and care home settings. Alongside this, Hossein runs a medium sized homecare service in Buckinghamshire which is no stranger to technology. A combination of innovative thinking and practical experience that drove him to apply the Topol Fellowship
"I saw it as a brilliant opportunity for social care as it was previously very health focussed. The care point of view needs to be pushed and I saw how it could benefit care, which is what encouraged me to apply".
The Topol Fellowship projects will officially launch in April but Hossein has already been thinking and preparing for what is going to come.
"My project will be exploring accessibility. There are lots of different systems coming out, it can be hard to keep track and you can lose capability. I'll be looking at what's available to the care sector, and how they can be made more accessible using widely available technologies like voice recognition. For instance, many homecare companies have adopted care management platforms, but there remains the challenge of providing ambulance crews with prompt and easy access to this data. I will investigate how we can overcome these challenges and ensure that the appropriate data is accessible to the right people at the right time."
The project lasts for 12 months and successful applicants will have access to a wide range of learning resources on digital transformation in health and social care, a topic Hossein is passionate about:
"Efficiency is one of the most significant challenges facing the care industry today, but technology provides a solution that can improve operational efficiency, increase margins, and ensure the long-term sustainability of businesses. By leveraging technology, communication becomes more streamlined, allowing families to have direct access to their loved one's care plan, businesses can track their staff members' working hours more accurately, and owners can monitor their operations remotely from anywhre. These technological advancements have the potential to revolutionise the way the care industry operates, making it more efficient, cost-effective, and sustainable over the long term."

"It's important that care services embarking on their digital journey ensure that they plan properly and involve everyone in the business. Assessing what outcomes you want to achieve is key to this. Utilising your time effectively as a business owner is so important in care as it can be very easy to burnout. Considering whether technology can free up your time and improve outcomes will help you make a decision".
The Topol Fellowship Programme closes with a conference where participants will showcase their project and achievements. We wish Hossein good luck with the coming year and will share updates on the programme as we receive them.
Find out more about Care & Carers.
Find out more about Careberry Software.
Back to Success Stories