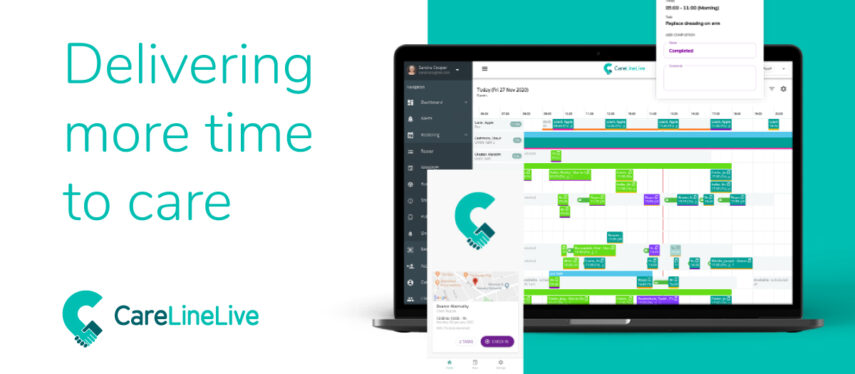 Mega Nursing & Care: implementing a home care management system
Mega Nursing & Care is a family run, home care agency based in the Midlands. In 2020, they decided to implement a home care management system, CareLineLive to reduce paperwork and save time spent on administrative tasks.
Background
Like many care providers, Mega Nursing & Care realised that staff were frequently spending a lot of time completing repetitive administrative work which could be automated. Similarly, this administrative work often resulted in a large amount of paperwork which was taking up a lot of space and which was likely to start costing more money as they would have to start using external storage. They decided to address both problems by looking for a digital solution.
When looking for a system to meet their needs, they wanted to find a completely holistic solution that would work for carers in the field as well as office-based staff. They had two core objectives for the solution:
to provide time-saving value for employees and customers involved in administrative tasks across the business.
to allow administrative tasks to be completed digitally and remotely where possible.
What they did
Mega Nursing & Care had already been using a digital care management solution but the benefits weren't being felt by staff working out in the field. They looked at several different solutions before choosing CareLineLive. CareLineLive is an all-in-one cloud-based home care management system that supports:
Compliance
eMAR (electronic medication administration records)
Payroll & invoicing
Rostering & care management
Care Circle portal
Ian Kibukamusoke, Director of Technology, said:
"CareLineLive has been a critical tool in the process to moving to complete digital working. The tool allows compliance documents such as each individual's recruitment file to be uploaded and assigned to their profile area which makes local and national audit preparations simple and less time consuming by not having to locate the paper-based documents. The same goes for service users and their care folders."
Mega Nursing & Care found that the process of switching from one digital system to another took them about a month. Throughout the whole onboarding process, they had excellent support from CareLineLive who worked with them throughout.
The outcome of the project
Mega Nursing & Care have found CareLineLive to be a best practice care software that contains features that allow the automation of administrative tasks for their field and office teams. Ian has reviewed the software and its impacts so far:
"Although this is not the cheapest tool on the market it does incorporate managed hardware for the office and field staff to use while in or away from the office such as phones. With the provided hardware and software each office is able to automate their call monitoring, invoicing, payroll, and monthly reports which produce savings of value equal to that administrative costs and time. The service users' next of kin are able to view real-time carer comments and tasks completed through the Care Circle portal.

"CareLineLive has provided Mega Care with better visibility on staff and service users using the integrated map feature, this allows us to plan optimum care runs based on carer to service user distances. This also is useful to find cover where our care staff are based close to the run or calls. If call monitoring tolerances are violated, then alerts are sent to the office for review to investigate why this has occurred.

"The managed handsets are allocated to care coordinators and seniors who are on call. These handsets are a cost-effective solution which ensure the hardware is only used for business purposes. Miscellaneous apps are locked and require authorization to be unlocked ensuring the data allowance is utilized efficiently. The handsets are used for checking in and out of service user homes, digital comment sheets and will soon be used for eMAR.

"The onboarding experience was efficient and the CareLineLive team work closely with your organisational needs to provide a quality service, product and relationship with their customers. A main positive point is that CareLineLive continuously work with customer requests on the development of their platform to provide a solution to occurring needs. This currently stands out from other competitors as this is bridging the gap in technology and care needs through the customer's input therefore putting the customer in a thought leadership position while CareLineLive innovate where possible to meet the need.

"Completing payroll and invoicing through CareLineLive is a large selling point as this has been a massive time saver compared with analogue approaches where even on a spreadsheet with preloaded formulas this will require hour allocations to be input. Once the pay rates and charge rates have been setup in CareLineLive, the software intelligently automates every chargeable call, annual leave, training etc which results in time saving of hours. The larger the company the larger the time and cost save on these tasks.

"The main values produced for Mega Nursing & Care have been saving of time and convenience."
Lessons Learnt
Automating administrative tasks allows saved time to be reallocated so that more time can be spent on quality, person-centred tasks
Choosing a more expensive solution at the outset can create larger cost savings in the long term
When helping staff move from paper to digital systems, transparent leadership can help to bring people on the journey with you.
Contact details
For more information, you can contact:
Ian Kibukamusoke, Mega Nursing & Care,
CareLineLive
Back to Success Stories