The Fremantle Trust: motion-activated projection technology
The Fremantle Trust is a charity that provides care and support services for over 1,100 older people and adults with a learning disability. There is a motion-activated projector in three of their care homes that provide a stimulating and unique experience through sensory activities and games.
Background
The team at The Fremantle Trust is continually looking at technical innovations to enhance and support residents' wellbeing.
After receiving community funding through the Tesco Bags of Help scheme, the Trust began investigating technology that could provide sensory, social and cognitive stimulation. They were looking for something to engage people who don't usually interact with everyday activities, particularly those living with dementia.
After researching several types of projectors, the team opted for the Mobii Magic Surface. The technology offers a therapeutic experience helping people, including those with dementia, to connect to positive personal memories.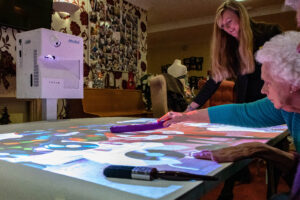 The Mobii system, which can be used on any surface, provides residents with a range of sensory games, music and social activities designed to engage and motivate. The Trust chose this projector as it's fully mobile.
Sue Faulkner, Community and Lifestyle Manager at The Fremantle Trust, said:
"The projector is on wheels and we can move it easily into different rooms as needed. You can project onto literally any surface, including bed covers, tables, floors and walls."
How it works
The Mobii Magic Surface is an advanced projector that picks up on your movements. So whatever movement, no matter how small, will impact on the projected image.
It contains a huge range of interactive content, meaning there is always something for everyone, regardless of age or ability.
Sue explains:
"There are lots of games including one where the user can push leaves and discover something underneath, like a photo for example. They can also use their creativity by using a brush to paint virtual pictures with. There are also a selection of quizzes and music."
It can be personalised with photos of residents, their relatives or loved ones which become a jigsaw.
Sue continues:
"We have seen residents respond really positively when they recognise either themselves or a family member and it makes a huge difference to their wellbeing."
There are also meditation modes, such as watching an aquarium or touching ripples of water alongside relaxing music.
The projector is built to be durable and as well as being easy to move around on its wheels, the height can be adjusted. Importantly, it's easy to wipe down between uses for infection control.
Benefits
Sue says that the projector can improve peoples' social skills and she has often seen residents sharing and showing each other what they're doing. Alongside traditional care, the projector provides stimulation and engagement.
Sue explains:
"It's definitely had a positive impact on residents emotional wellbeing. Because it's so simple to use, everyone can experience it and it often brightens their day. They can interact, explore and collaborate."
Before the pandemic, the projector was generating interaction between the generations of visitors.
Sue explains:
"When grandchildren visited, they were fascinated with the projector and would join in with their relative. That intergenerational contact is so important."
Advice to other providers
Do your research and make sure you get a demonstration, even if it must be shown to you over a video call.
Technology can help differentiate your service. Use it to demonstrate to potential residents and their relatives how investing in technology can enhance and improve resident's wellbeing.
Think about the longevity of the technology as well as practical issues such as infection control.
For more information
To find out more about The Fremantle Trust, visit https://www.fremantletrust.org/
To explore OMI's motion-activated technology, go to www.omi.uk
Back to Success Stories