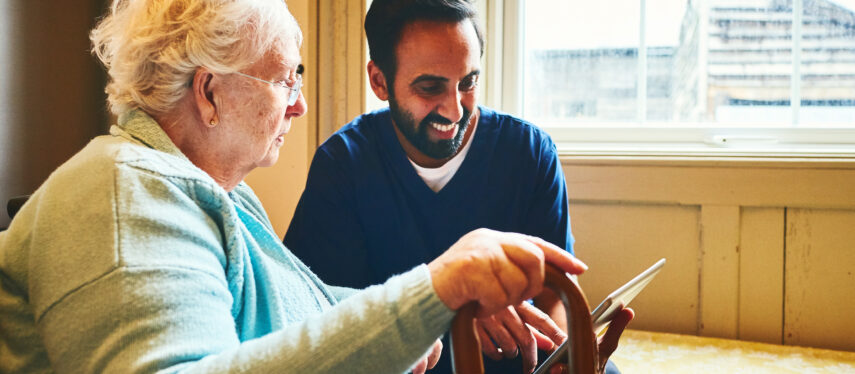 Cardiff Council: using smart watches to reduce falls
Falls in older people are common and can cause serious injury. Figures from the NHS show that around 1 in 3 adults over 65 who live at home will have at least one fall a year.
Twenty residents in Cardiff have been trialling smart watches that can help identify when someone is at risk. The aim is to prevent falls and help older people to live independently at home for longer.
Background
The team at Cardiff Council were looking at the data around how many falls there had been for people living in their own homes. They wanted to see whether they could use technology in a proactive effort to prevent falls.
Aaron Edwards, implementation and delivery manager at Cardiff Council, said:
"Research shows a clear link between those who fall frequently and serious injury or entry into residential care. I was worried that the pandemic would increase falls further."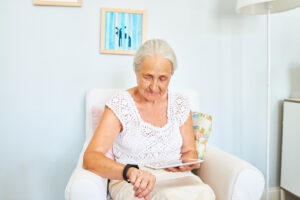 The team had a demo of a smart watch which links the information through to a system called ARMED by HAS technology. It stands for Advanced Risk Modelling for Early Detection.
The smart watches collect key data around the activity and inactivity of a person, as well as their sleep patterns and associated heart rate and breathing rates. This data is then collected into the ARMED platform and passed through the machine learning models, with a view to identifying the escalating risk of a person linked with frailty and risk of falling.
There can be, if the service user requires, the ability to collect additional data such as weight, grip strength, muscle mass and hydration levels.  All of these are indicators of frailty.
The pilot
The team began a pilot last year with 20 watches being given to people in their 60s and 70s so they could be monitored from home.
Aaron delivered the watches himself and due to the pandemic, had to give instructions to the individuals from a safe distance outside their home and over the phone.
Aaron explains:
"To start our pilot, we wanted to choose people who didn't have a large fall history. The 20 people who took part had fallen between 0 and 2 times in the last year. This was because we wanted to put safety first."
As well as the watches, participants are given a smartphone which connects via Bluetooth to the watch. An app on the phone allows the data to be collected.
The watch has a 4–5-day battery life and the phone has around 5 days before needing to be charged.
Aaron can view all the data on a secure online dashboard. The system uses predictive analytics to flag up any issues that may need intervention.
How it has helped
For the first two weeks the team collected data to create a baseline, such as the average steps a person usually takes and their sleep pattern. The system then develops knowledge about what is normal for that individual and can build predictions from there using algorithms.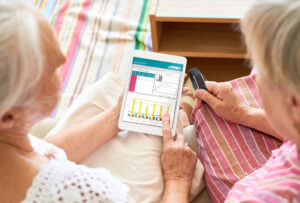 During the pilot phase, Aaron would log in daily to the dashboard to see if any service users had been flagged. The data rates whether the individuals are of low, medium or high risk of falling.
Depending on the rating, individuals will get a call from Aaron, asking them about their health. The idea is that any problems can be picked up early and they can be signposted to other services that can help.
The watch will vibrate if the individual is inactive for 60 minutes to encourage that person to walk around. Aaron says that remaining active can make all the difference for those at risk of falls.
In this pilot phase, none of the individuals had a fall.
The future
For the next pilot, the team will be trialling 20 watches on people who have fallen 5 or more times in a year. They will also be working on building their established network to signpost those at risk.
Aaron says:
"We're joining up with physiotherapists, nutritionists, occupational health and other specialists to support those individuals that are identified as having potential strength or balance issues. We're also thinking about how we can adapt this at scale and who will monitor these individuals in the long term."
Advice to other providers
Involve colleagues or other services when thinking about piloting technology, as it can't be done in isolation.
Choose your pilot cohort carefully to ensure they are the right people to try the technology.
When using technology like this you will have to think about who will monitor and respond in the long term.
For more information:
To find out more you can contact Aaron Edwards at Cardiff Council on  [email protected]
For more information on ARMED by HAS technology visit www.hastechnology.com/armed-about
Back to Success Stories