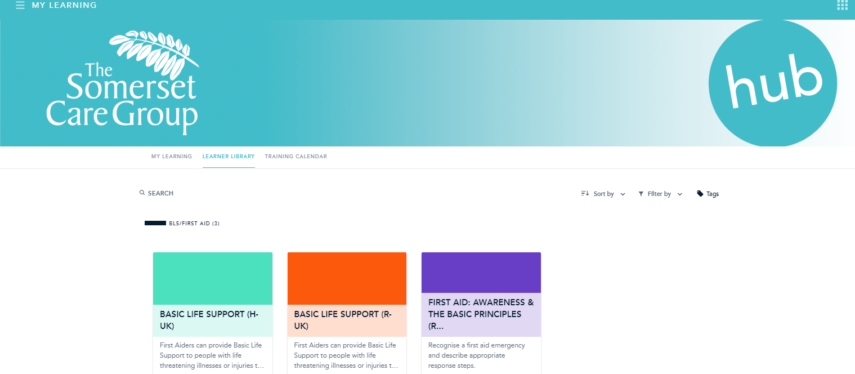 Somerset Care: implementing online learning to 3,000 employees
Somerset Care is one of the major care organisations in Southern England, providing care homes as well as support services in the community.
Last year the team decided to take the vast majority of its staff training online to upskill employees and provide ways to track and monitor compliance rates.
Background
Somerset Care has 27 care homes across the south of England with 3,000 employees. The company wanted to introduce an online learning management system to help increase the numbers of staff completing mandatory training, engage staff more effectively with their learning, and reduce extensive training costs.
Jess Henry, Head of OD and Learning and Development at Somerset Care, explains:
"Our employees are spread over a large area and we had a traditional training company providing face-to-face training, which just wasn't sustainable. Trainers would go to a particular care home and because only a certain number of staff could be released from their work, we were spending money on sessions where only a couple of people could benefit. We felt there were real opportunities if we could take most of our learning online."
The company researched different providers and decided to use Altura learning. They needed a system that was intuitive, as well as accessible via smartphones. Jess says:
"We have a wide spectrum of people working for us, some have very little computer skills, so it was important that it was easy to use and engaging."
The Altura platform is geared towards the care sector and is made up of modules of videos which staff can watch and replay at a time that's suitable for them. Somerset Care doesn't have its own eLearning department, so they were looking for a platform that already had training modules in place. They also wanted to choose a company that provided a support helpline and a system that would deliver an easy way of reporting compliance.
Implementing the platform
Somerset Care set up an implementation committee, made up of staff from IT, operations, HR and learning and development, who all inputted into the development and rolling it out.
They branded the system 'The Hub', giving it a logo and getting staff familiar with the concept. Information was given to people in their inductions, as well as training for managers.
Jess explains:
"It was about changing the culture to embed learning and development at the heart of what we do. We did some testing with four teams to see how they got on and get their feedback. Then we did some roadshows where we launched the platform to staff."
The team didn't want to overwhelm staff, so started by putting just the mandatory training on the system with topics like confidentiality, food hygiene and safeguarding.
Jess explains that some people were nervous to begin with, but once they'd used it, they enjoyed the experience and appreciated a new way of learning. Jess says:
"There's a small minority who we've had to give one-to-one support to so that they can access the platform and be shown how it works. Overall, it's been a great success and our compliance figures are climbing rapidly."
Managers have said that the platform is useful for them from a reporting perspective and being able to oversee their team's learning.
Whilst there are practical elements of training that must still be done face-to-face, such as manual handling and life support, now 85% of training is online. This has helped to save money plus improve reporting and compliance.
Future development
As the platform has proved so successful and demand has grown, the team has increased the amount of learning available. In consultation with area managers, a list of additional training topics was put together.
Jess explains:
"We've now added about 60 training modules like stoma care, epilepsy, and looking after someone who has had a stroke. These aren't mandatory as a company, but a particular service might want to make it compulsory for their team. It's given us so much more choice and flexibility and staff have been able to expand their knowledge."
The team is about to launch its appraisal system through the platform and have created a simple and straightforward appraisal to replace a more complicated paper one. Jess says she thinks it will give a new lease of life to the appraisal process.
During the COVID-19 pandemic, the team have been recording weekly videos with the CEO and Director of Operations and putting them on the platform for staff to view. Jess explains:
"We've always struggled with staff communications and we were finding that newsletters and cascading information didn't work. It's a great way for staff to hear what's going on and has masses of potential."  
The team is now looking at making more of their own videos, such as moving and handling techniques and demonstrations.
Lessons learnt
Having a committee to steer the project was essential, including involving colleagues and representatives across the organisation to help identify issues early and provide a collective approach
Making sure you have clarity about what your key drivers are to ensure you reach your goals.
Asking people about their needs and understanding the barriers. Somerset Care assumed staff would want access to a tablet or laptop for their training, but many staff are happy to use their smartphones.
Spending time with people to explain what it's all about and how it will impact them is vital.
 Costs
Altura Learning are a Skills for Care Centre of Excellence, National Care Forum and Care England partner, with a learning community of over 700 care organisations and 150,000 learners.
Altura Learning design high quality, bespoke training solutions based around individual organisational and learner needs. Packages start from £20 per staff member, per year.
Further information
To find out more about Somerset Care visit www.somersetcare.co.uk or contact Jess Henry at [email protected]
Back to Success Stories