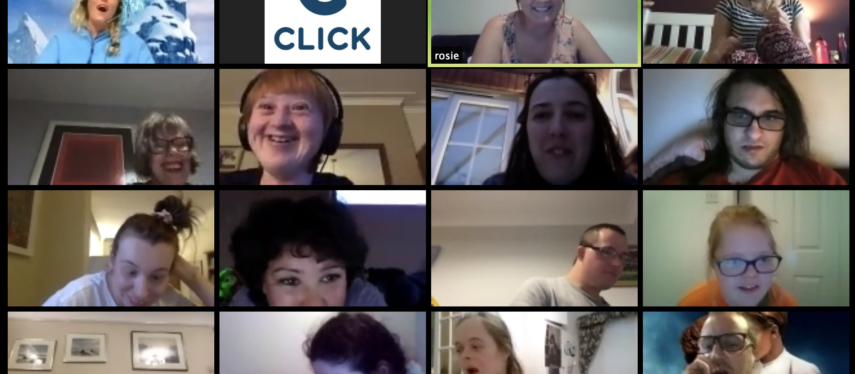 Click: pioneering an online way to deliver services
When Windward Day Services, an organisation that supports people who have a learning disability, was forced to move their service online due to the pandemic they thought it would be a temporary measure.
Despite now being back providing face-to-face services, the team has developed a complete online offering, called Click. It's trailblazing a new way of delivering digital services.
Background
Windward Day Services provide activities and opportunities for adults with learning disabilities and autism across five centres in Hampshire and Dorset.
When the COVID-19 pandemic hit and face-to-face services had to stop, the team turned to video chat service Zoom to continue services.
Kelly Perry, Project Leader for Click, says:
"We took as many of our services online as we could. We made sure we had active sessions, such as fitness, yoga and dance. We've also been running a choir, quizzes and sessions like sing and sign."
Service users and families gave such positive feedback, it was clear that the team were providing a vital lifeline.
Kelly continues:
"Initially it was about helping isolation and sparking friendships during lockdown. It's since taken on a life of its own and proved that it's a model of service provision that works really well for those we support."
Expanding services
The team set up the Click project to develop an online offering that would provide a varied programme of activities and encourage new skills.
As well as existing service users, the team spread the net wider, inviting people from other networks and communities to join.
The team has developed a structured calendar of activities to connect people who experience social isolation, no matter where they live.
The aim is to build a community that continues outside the sessions.
As well as a fun-filled timetable, skills-based learning is also central. Activities like opinion-forming and discovery sessions on subjects like endangered animals make a varied schedule.
Click delivers 25 sessions a week in their programme. The service is designed to be person centred and incorporate what people want. Parts of the sessions are also led by service users.
Kelly explains:
"We have people show us their pets for example and things around their home. One of our service users creates drum and base on his computer and he showed everyone how he does it. It's really helped develop bonding and relationships."
Complementing current services
Click has been so successful the team are now offering it as a commissioned service. Each online session is delivered by a trained team of 2 staff – providing professional support and structure.
As well as the organised online sessions, service users benefit from 1:1 regular calls with a staff member.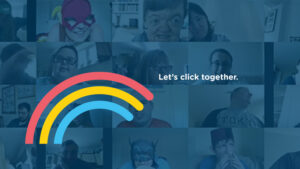 There's also a private community Facebook page where they can communicate with their friends. A dedicated YouTube channel has content for members.
Each service user can choose the sessions from the weekly timetable and trial different sessions on a regular basis.
The team has just started offering evening and weekend sessions, which are already proving a popular choice.
Kelly says:
"It's so important that service users have choice. Also, at this time when things are changeable due to the pandemic, we're a reliable and constant in people's lives."
Costs
Click packages are available to individuals and commissioners and are flexible. Sessions start from £10 a week.
The team also offer a free 2-week unlimited trial for anyone wishing to join.
For more information
To read more about the Click project visit www.clicktogether.co.uk or contact Kelly Perry on [email protected]
For more information on Windward Day Services, visit www.windward-dayservices.co.uk
Back to Success Stories