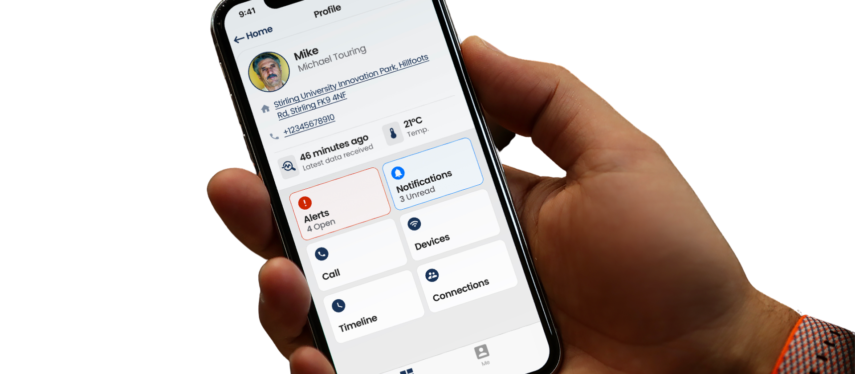 Cornerstone: improving overnight care by using technology
Caring for someone doesn't stop at the end of the day. Overnight support is crucial for many people to continue to live independently.
The Scottish charity Cornerstone has over 40 years' experience of caring and supporting the most vulnerable people in our communities. This includes people diagnosed with learning disabilities, autism, dementia, mental health issues and many others.
Now the team in North Lanarkshire are using innovative technology to monitor the people they support in their own homes remotely overnight to promote individual's independence.
Background
Two years ago, Cornerstone began a pilot project to find a new way to deliver overnight care and support in North Lanarkshire. The idea was to give individuals more opportunities in how their support was delivered by harnessing technology.
Cornerstone was delivering sleepover care to several people in the town of Coatbridge. With agreement from the individuals, the team found a solution where they would be monitored using technology.
Instead of having a support worker sleep over in each house, the local team of overnight responders would monitor and respond to a group of individuals remotely from nearby.
Robyn Birrell, branch leader at Cornerstone, explained:
"The care and support we deliver is tailored around the individual. We are always looking for new and innovative ways to improve the support we give and allow people more say in the way they are supported. When we came across the technology, we thought it was a great way to provide the people we support with more independence and control of their overnight support package, and build on each person's independence within their home."
How it works
Carezapp is technology that uses a range of devices in someone's home to monitor their activities. For example, the technology knows when someone gets out of bed, open or closes doors, opens a medication box, and can monitor their breathing and heart rate.
This real-time information is processed into meaningful alerts, notifications and insights onto a dashboard. Carers, such as Cornerstone's responder team, can keep an eye on what is happening and intervene if necessary.
Robyn said:
"We can set up different rules to notify and alert us depending on the individual's needs. For example, we can set the system up to notify us when someone gets out of bed in the night if this has been identified as a risk factor to the individual. We can set the system up to time how long that person is up for, e.g. if they're more than 20 minutes in the toilet this may trigger an alert for a physical response to that person's home."
Overnight care remotely
Instead of having a support worker in each house, two pairs of workers, called responders, are online in the office monitoring activity overnight. The system is available via desktop computer or through an app on a mobile or tablet.
If a rule is triggered a notification or an alert happens. The team can decide whether they need to physically go to the person's house or use remote technology to speak to them, based on that individual's support plan.
Each person has a tablet device in their home and responders can contact them using sound and video to check how they are, with the relevant consents and training.
Robyn explains:
"It can be daunting for some people to have a support worker stay in their home overnight, as they can feel like they never have any time alone in their own environment or it's a totally new concept to them. This way people can maintain their privacy without compromising on safety. If they want to speak to someone, they can easily audio or video call responders and we're always here for them."
Benefits
Robyn highlights that using the monitoring system means they've found out things they wouldn't necessarily know normally.
For example, one individual was always tired. After using Carezapp the team found out the person was sitting in the bathroom for a number of hours most nights each week. The responder team communicated the overnight activity with the day support team, who were able were able to get the health team involved and medication was tweaked to help the individual get an uninterrupted nights sleep.
As well as allowing people the freedom to choose their level of care and increase their independence, using technology can also be cost-effective.
Robyn says:
"As health and social care workers it's in our nature to protect people, but sometimes we can over protect and so we need to be mindful to support people to take positive risks and not limit their personal outcomes. My advice to other providers is to look at the alternatives that are available and promote the people you supports' involvement and understanding of this as technology is the key to future and change, although scary, can have a positive impact on the lives of those we support."
Lessons learnt
Talk to those you are caring for and work with them to involve them to try out technology.
Using remote care monitoring where it's suitable means care can be tailored to the individual's needs.
You will need to dedicate resources and time to get a new system up and running and there will be teething problems. But persevere and you'll see benefits.
Costs
Investment is needed to get the system up and running. Using the technology is cost-effective over time as using responders is more affordable than traditional overnight care.
Prices start from the equivalent cost of one hour of care per week, per supported person, offering 24/7 year-round real-time monitoring.
For more information
To find out more information about the charity Cornerstone, visit www.cornerstone.org.uk
To learn more about Carezapp, visit www.carezapp.com
Back to Success Stories