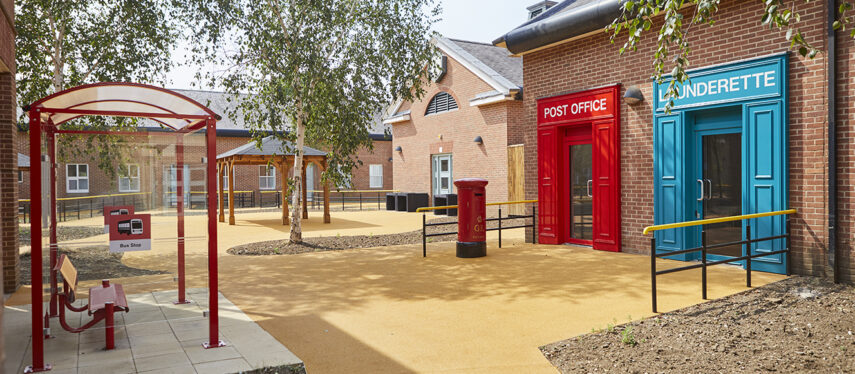 Dementia village: using the latest in tech to improve the lives of residents
A new dementia 'village' in the East Midlands is putting technology at the heart of the service to improve the lives of residents.
From dementia-friendly taps to the latest innovations in lighting and signage, the Lowther hub at St Andrew's Hospital is leading the way in using technology to support residents with dementia.
Background
Based around a village theme, the 41-bed dementia unit has a communal green, a laundrette, a post office and a bus stop.
The Lowther hub in the grounds of St Andrew's Hospital in Northampton is run by the charity St Andrew's Healthcare.
The idea is to offer more than a hospital or nursing home environment. The concept was inspired by De Hogeweyk, a gated village in the Netherlands designed specially as a dementia care facility.

By providing a village lifestyle, it helps residents to build their independence while being completely safe. It also provides familiarity and improves the quality of life for residents.
As well as the village itself, the team at St Andrew's have used the latest technology to make it a home-from-home for residents.
Dementia-friendly taps
Every detail at Lowther is geared towards making things familiar to those with dementia. In each bathroom the team has installed dementia-friendly taps.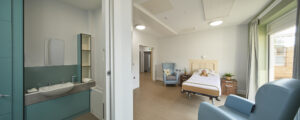 The taps have a traditional appearance but are automated. There is software built in to monitor the user's habits and keep track of their cognitive ability. It can also help reveal any dexterity issues and spot any decline.
The showers and baths have similar technology, with clear controls and easy to understand graphics to show residents how to use them.
Avoiding falls with an alert system
An innovative alert system is in place to minimise the risk of residents falling. Infrared beams are used to detect if a resident is leaving their bed in the night or opening their bedroom door.
Martin Ridnell, Project Implementation Manager at St Andrew's Healthcare, said:
"The alerts mean that staff are immediately aware so that they can help earlier, reducing the risk of falls."
Circadian lighting and acoustics
The team take advantage of the latest technology to provide a homely environment that doesn't feel like a hospital unit.
This includes technology like circadian lighting.
Martin explains:
"Dementia patients can often lose the natural rhythm of the wake and sleep cycle. Circadian lighting mimics the natural light phases of the day to help regulate the body's cycles. It's so subtle you don't even notice it."
It's proven to increase physical and mental health and improve behaviours of dementia residents.
Traditionally care units use hard surfaces as they are much easier to clean, but they can create an unfriendly echo. At Lowther, the team has used acoustic vinyl to reduce the noise of footsteps and innovative panels in the ceilings and walls to improve the acoustics.
Helping residents feel at home
Hannah Taylor, part of the St Andrew's Capital Project Team, said:
"Each bedroom door looks like a front door of a house and each one has a unique colour. This helps residents to feel at home and helps them to find their room."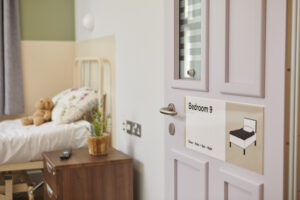 The signage at the village is a set of pictograms which are 3D images. These support recognition and those with visual impairments.
The overall aim of the village is to create a community where technology can help every resident feel safe and give them independence.
For further information
To find out more about the Lowther hub, visit St Andrew's Healthcare at www.stah.org
Back to Success Stories