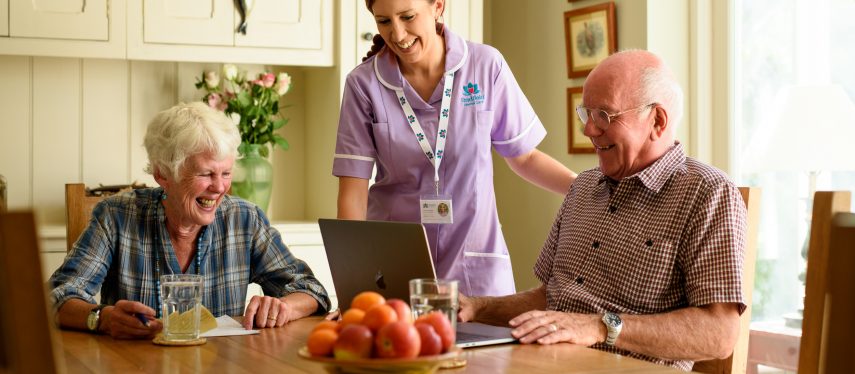 Early adopters of technology in care: successes, challenges and potential
After approaching a representative from a care planning software supplier in 2015, UK care company, Radfield Home Care, became aware of digital developments in the sector. Director, Dr Hannah MacKechnie, was intrigued by the potential of the technology. As she explains,
"We could see significant benefits to introducing digital care planning software. There were time saving efficiencies and real time information meant medication management could be made simpler and safer and we could offer a more responsive service to our clients."
Radfield Home Care are no strangers to technology. Running an award-winning national UK home care franchise with a network of over 30 offices, they took on their first digital care record contract in 2015 and have been through the ups and downs of integrating new software systems into an expanding business.
The application of digital technology in social care has developed enormously in the past eight years, accelerated by the Covid-19 pandemic. Yet there are still improvements and developments to be made, and it has been noted that the full potential of digital technology is yet to be realised and that the digital transformation of the adult social care sector is only just beginning.
Initially, Radfield Home Care implemented two digital solutions with different functions for the varying needs of the business. This became complicated to manage between the two suppliers, and in 2018 motivated them to switch to a software supplier who could provide everything in one piece of tech.
Challenges of transitioning to a digital care software
Changing to a different care software supplier is a process that has challenges. Dr MacKechnie said:
"Digital transformation can be a difficult experience and at times it has felt as though the software providers were more interested in keeping their investors happy than their clients. The software systems we were moving away from made data extraction very challenging and it was a big task migrating an entire network of franchise offices."
Planning a digital software migration between care management systems that are fundamental to the daily operation of a domiciliary care business is something that needs to be thought out and planned accordingly to minimise disruption to the service. As Dr MacKechnie explains,
"There is going to be an impact to the growth of the business, you can maintain the status quo but as key personnel are focused on the migration project it will remove focus from other areas. We approached this with a plan, transitioning with a test site first. We went through the process then mapped out how long it took, what resources were needed, what challenges there were and what was more straightforward. We took the lessons learnt then put a project map together to help support other offices migrate."
Positives of transitioning to a care management software system
Despite initial difficulties with making the switch, the service was able to see clear benefits to integrating new digital solutions. Dr MacKechnie said:
"Being on a robust platform with good insight of what was happening in the field was helpful. Comprehensive digital systems are structured for efficiency of carers. For example, the system will enable them to record legible, high-quality notes whilst in the client's home that are immediately available to the office team. It encourages behaviours you want that help to demonstrate the quality of your service."

"Factoring in cost is important. It can be expensive in the short term but there are cost savings in the longer term. For example, we've reduced our need for office staff to be deployed into the field because of real time information that we're able to see."
It is widely accepted that digital care records can improve outcomes of the people receiving care, and this is something that Radfield Home Care were able to recognise in their adoption of technology too:
"There have been benefits from an auditing perspective, too. Viewing digital records as soon as events happen allows us to respond quickly if something was missed. With paper records, it could be some time after a visit that notes would be reviewed and in some cases too late to make any changes. The experience of both the carer and the client is improved as the technology allows us to be much more responsive."
Find out more about Radfield Home Care.
See what digital funding opportunities are available in your area.
Back to Success Stories