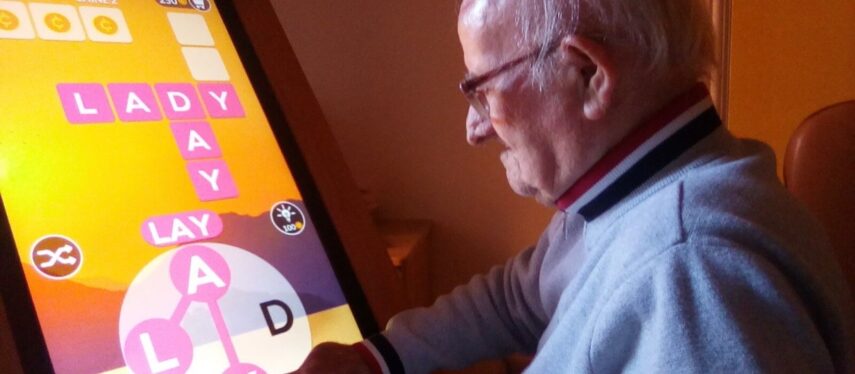 HICA Group: touch screen activity tables
Brain training, jigsaws and painting experiences are just some of the activities residents in HICA Group's care homes are able to enjoy due to new touch screen activity tables on wheels.
HICA Group provide specialist care and support services for older people and people with a learning disability. Each of the groups 17 care homes have at least one activity table, allowing residents to have interactive fun, as well as the ability to video call family on the large screens.
Background
Many care homes have tablets for residents to use, but staff at HICA Group were looking for something different.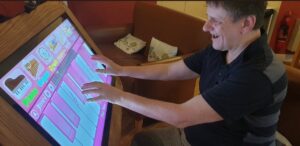 Andrew Salter, Business Support Manager at the HICA Group, said:
"We have some tablets in the homes but were finding that they were breaking or getting slow. We introduced these touch screen activity tables to provide an interactive experience for residents."
Tablets can be too small for some residents or easily get broken. Whereas a projector can give you a large picture but can be expensive and can't easily be moved around.
The large touch screen activity tables, from Inspired Inspirations, can be simply wheeled from room to room. They are easily wiped clean for infection control.
How it works
The tables are available in two sizes – 32 inches and 43 inches. As they are large, they can be used for group activities or for individuals with poor sight. The screens are toughened, so if they are hit or bashed, they can't be damaged.
The height of the tables is built with wheelchairs in mind and are topple-tested. Residents can use their fingers, hands, elbow or knuckles to work the table.
Andrew says:
"They are so easy to operate, no matter what your ability."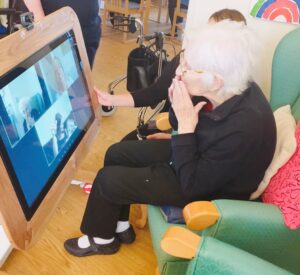 The tables run on a cable-free system, reducing hazards. You charge them for 2-3 hours and you get around 8 hours of constant use.
They work with Wi-Fi, Bluetooth or HDMI. Although they don't come with an inbuilt camera because of safeguarding, you can easily connect a webcam. This allows residents to video call relatives and friends and see them on a large screen.
If families provide a USB stick of photos, these can be plugged into the table. Residents can look through these images, enjoying them on the large screen.
Interactive fun
The tables use apps for activities and residents never run out of things to do.
Andrew continues:
"We use Google Earth to take residents to street views of important places to them, such as where they got married, worked or had a holiday. It's really heart-warming to see resident's reactions to places that are special to them."
The activity tables come with a suggested list of over 60 of the most used apps including:
tabletop games like air hockey and darts
exercises
creativity apps like painting and art
sensory experiences
relaxation apps including soothing music and scenes
brain training
reminiscence experiences
hand/eye coordination exercises.
You can set up a folder for each resident with their favourite apps in. This allows any member of the team to interact with the resident, regardless of whether they've met that person before.
Andrew says:
"These tables are additional tools that complement the great work of our staff in our homes."
Prices
The activity tables start at £4,000 plus VAT and include delivery, training, webcam, a 3-year warranty and a best practice guide.
Inspired Inspirations is currently running a raffle for a care home to win a free touch screen table. It's free to enter and you just need to nominate a care home to receive it here.
For more information
To find out more about HICA Group, visit www.hica-uk.com
To learn more about the activity tables, visit www.inspired-inspirations.com
Back to Success Stories