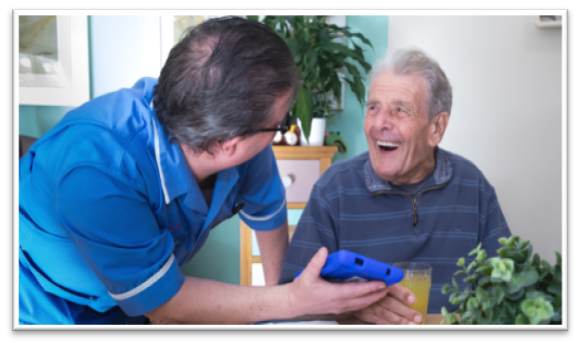 Memory Tracks – A Care Home Research Project
A study assessing the wellbeing of people living with dementia using reminiscence music with a mobile app has recently been published.
Memory Tracks have recently published the findings of their 2018 research project: Assessing Wellbeing in People Living with Dementia Using Reminiscence Music with a Mobile App (Memory Tracks): A Mixed Methods Cohort Study. The research was carried out to establish if music at the point-of-care could reduce anxiety, agitation and confusion, and make care easier to receive and provide.
The Memory Tracks app has been designed to place music at the centre of health and wellbeing.
Background to the project
Those living with dementia experience a wide range of daily challenges, particularly anxiety, disorientation, anger, fear, irritability, depression, and withdrawal. These issues can impact severely on their quality of life, and also on the lives of the care providers and family members. These challenges also often lead to greater use of medication and increased care costs.
This project looked at reducing these challenging behaviours, and therefore their impacts, using the Memory Tracks app. The overall objective is to increase the quality of life for those living with dementia and all those around them, and also reduce the need for medication and specialist care costs.
Working with Pendine Park Care Group 14 residents were selected across two care homes in Wrexham and Caernarfon. Care staff took part in training sessions to understand how to use the observation tools and five specific daily tasks were identified for each resident, and a relevant song based on date of birth and location of their earliest years was allocated to each of these tasks.
The Memory Tracks team and the care staff at Pendine Park used a daily observation sheet that considered six measures including memory, physical health and happiness. An initial baseline was established for each resident by taking daily observations for 2-3 weeks without the use of Memory Tracks then observations were taken for 4 weeks for each resident whilst using Memory Tracks.
The initial purpose was to discover if the Memory Tracks user interface worked well, but they learned so much more than expected.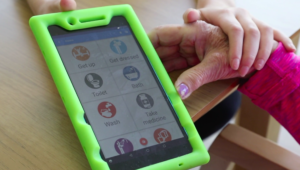 Lessons Learnt
With just 14 residents in the study and relying on busy care staff to take daily observations there are limitations to this research, but with no negative impact observed, it points to the potential for a larger study over a longer period to fully determine the efficacy of Memory Tracks.
Using the six measurements, there was a significant difference noted in overall average happiness of the residents studied whilst using Memory Tracks. There were improvements across the other five measures, however they were not statistically significant.
In addition to the observation data a series of interviews were undertaken with care staff at the end of the Memory Tracks trial. When these interviews are considered in conjunction with the quantitative data they form a holistic view of the positive impact that Memory Tracks had on the residents at Pendine Park.
Interviews were conducted with 33 care home staff.
The majority of staff responses were positive, with just a few suggesting there was no particular impact on the residents they were caring for.
In addition to the impact on residents, staff were also asked to comment on the user experience of the app. Feedback was positive, and no staff reported any challenges with the functionality.
The response from care staff was more positive than anticipated. During the training sessions, some of the care team had not used technology in conjunction with their work, but they quickly took to using it in practice. In some encouraging feedback, interviewees found that key tasks, such as personal care of residents, was easier to manage. As a result it allowed more time to offer higher quality care to residents. There was also broad affirmation of the quantitative findings on general improvements in happiness. Some staff, and the care home management, suggested that longer-term use of Memory Tracks could lead to health improvements and a reduction in the need for external professional care, such as GP or nurse visits.
When asked to comment on the impact of residents using Memory Tracks, a staff member commented:
"She's calmer, completely calmer with eating, getting dressed, from somebody who wasn't very calm. There is a difference in her character, personality, she eats better."
As a testament to the benefits, care staff asked to continue using Memory Tracks after the initial study. With one member of staff saying:
"Basically, if I was going to come into a care home then that's [Memory Tracks] what I would want to actually help me."
Further Information
If you would like any more information about this project please contact:
Gordon Anderson
m: +44 794 102 4897
@memorytracks
Back to Success Stories