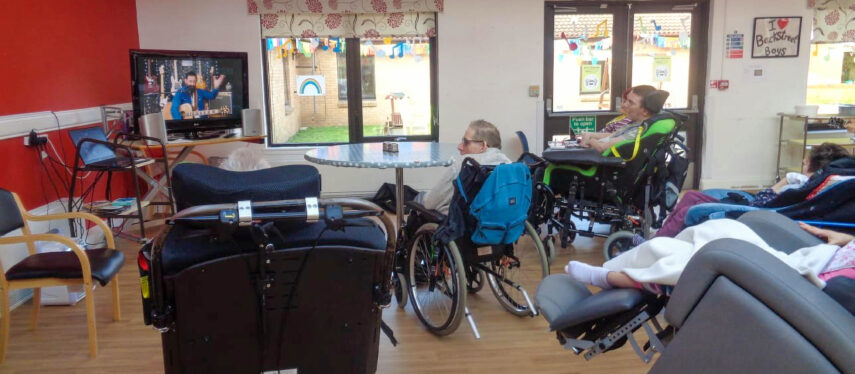 Music in Hospitals & Care: bringing the healing power of live music during the pandemic
Music in Hospitals & Care is a charity that improves the health and wellbeing of children and adults through the healing power of live music.
Despite the challenges of COVID-19 and being forced to think differently, the charity is pioneering a new way to share live music with care homes by using technology.
Background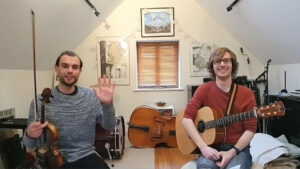 Every year, the charity's professional musicians share live music with over 100,000 people from across the UK who may not otherwise get to experience it. This includes people living in care homes, those living with dementia or who are seriously ill.
The charity believes that live music needs to be part of everyone's health and social care. Research shows that live music helps people feel relaxed and confident, and can relieve frustration, stress and isolation.
When the pandemic hit, the charity's professional musicians could no longer bring live music to residents in care homes in person. But they were determined to continue providing this vital service, so they turned to technology.
Claire Owen, Head of Music Delivery at Music in Hospitals & Care, said:
"Our core purpose is to provide live music to those who need it most, so we looked at ways we could utilise technology. We saw it as an opportunity to connect with people in a different way."
Grange Care Home in Kilmarnock is just one of the hundreds of care homes that has benefitted from the charity's live music during the pandemic. They used Zoom to connect with a musician from the charity.
Derek Lennox, Lifestyle Coordinator at Grange Care Home, said:
"We haven't had live music for months. Everything we have been doing is just on the TV or videos. To have someone who was interacting directly, asking them what songs they would like to hear, I think it was almost like a wee touch to the outside world again. And that just made you feel a bit more hopeful afterwards."
Embracing technology
The team had to quickly get to grips with various technology that would allow musicians to play live from their own homes. They experimented with using video services likes Zoom, Facebook and YouTube to stream the concerts live into care homes.
Claire explained:
"We wanted to retain the meaningful interactions that our musicians would usually have with residents. We've learnt that keeping that live element by streaming them in real-time means there can be two-way interactions. Musicians can take requests from residents and use names which makes it wonderfully personal."
The charity offers 3 public sessions a week via Facebook Live which include Music and memories, Live in your lounge and Lullaby hour. Social care providers can also access free personalised sessions securely on Zoom and YouTube, which are tailored to the needs of the residents and their musical tastes.
The concerts can be viewed on any device connected to the internet. Care homes are using phones, laptops, tablets, projectors and smart TVs to watch the musicians.
Claire said:
"Care homes can message each other while they're watching, so they can say hello. We can even reach people isolating in their rooms. Those connections can be so uplifting."
Benefits of live music
Live music has made a huge difference to people and Claire said that it's helped bring residents together with the outside world.
She said:
"People really relish that connection and happiness that our live music brings. Technology has helped us to do that."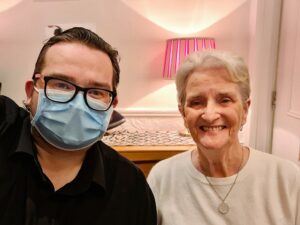 Feedback from residents has been overwhelmingly positive. Mary Tonner, 79, a resident at Grange Care Home, said:
"It was fabulous, he came on with the guitar and it was wonderful. Afterwards I felt happy, because it just made you feel a wee bit more alive at the end. We all went to bed happy. Even Sheena and Margaret were singing, and they're about 90-odd! It was marvellous, I couldn't say enough about it."
For more information
To find out more about live music sessions from Music in Hospitals & Care, please visit www.mihc.org.uk
Back to Success Stories