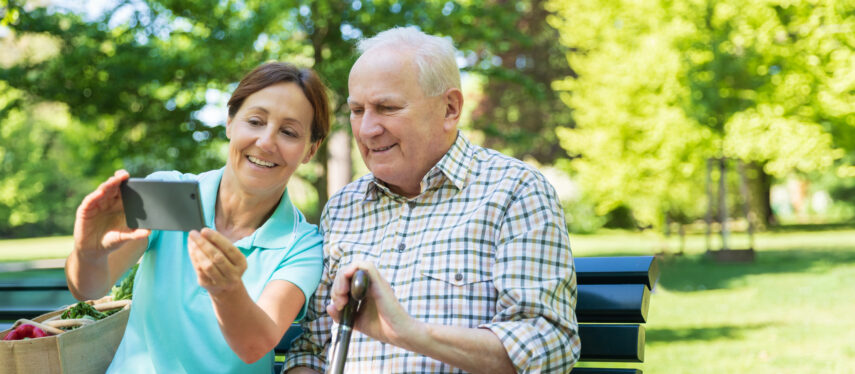 myo app: bringing relatives closer to the care of their family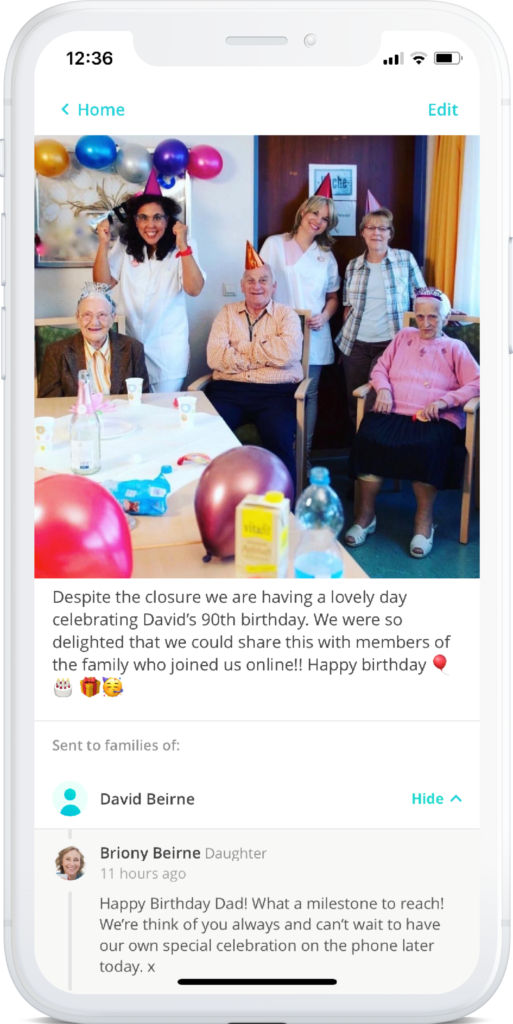 A start-up company called myo has developed an app that helps build relationships between social care providers and the relatives of those in their care. The technology allows staff to post daily updates about residents for loved ones to view through a secure app on their phone.
The technology is proving more valuable than ever due to visiting restrictions for relatives during the COVID-19 pandemic.
Background
The myo app allows providers to keep families informed about the day-to-day life of their loved ones in care by enabling staff to post updates on residents' activities, upload photos and videos, and create text and voice messages.
Families get access to the secure app through their smartphone or tablet and they can comment and interact with the posts and staff members in real time, helping to develop relationships and trust.
Sharon Bowen is Customer Relations Manager at Park View care home in Ipswich where the team has been using the app for over a year. She says:
"Some of our residents have dementia, so they can't tell their relatives what activities they've been up to. The app allows our staff to post photos of residents doing things like getting their hair done or doing a puzzle."
Sharon says the app gives relatives reassurance and makes it much easier to keep in touch. She says:
"Particularly during the pandemic with families being unable to come in and visit, we've found they really value the posts on the app, so they know that their loved-one is well."
myo was developed by Jasper Böckel and Felix Kuna who had spent time working in a residential home in Germany and they wanted to ensure that the care provided would always be visible to families. They recognised that this would go a long way in helping support relationships between the provider and families.
Richard Böckel, Managing Director for myo UK, says:
"It gives relatives a window into the everyday life of their loved-ones. Posting photos of residents playing cards, out in the garden or simply having a cup of tea, it gives them reassurance that their family member is being well cared for."
Richard explains that a lot of work that goes on in care homes goes unrecognised. He says:
"If relatives see the positive moments, they comment on the posts and say thank you to staff. This means the valuable work the staff provide gets appreciated."
myo believe that this improved transparency and communication to relatives creates "a positive cycle of appreciation" that benefits the business as a whole.
Richard explains:
"We know that relatives rely on word of mouth recommendations when it comes to choosing a care home for a family member. Greater customer satisfaction means you'll attract more residents. Staff morale also improves because they know their work is being appreciated and they are more likely to stay in their role, thus increasing staff retention. We currently see the troubling effects every day of the annual staff turnover just above 30%, which is costly for providers and unnerving to residents."
The app is now in over 100 care homes in the UK, Germany, Switzerland and from this week, the US. The myo team say they would never want to replace face-to-face communication or indeed video calls whilst lockdown measures are in place. However, the latter can be time consuming to organise and therefore often is only available to a family once a week. By contrast, a post on the app takes as little as 30 seconds, giving staff more time for caring and bringing peace of mind to relatives.  During the COVID-19 pandemic, with relatives unable to visit in person, Richard says that the app is proving vital for providers to sustain communication.
How to get set up
The app is fully GDPR compliant. The myo team provides support, including demonstrations on how to use the tool to catch-up calls and to make sure things are running smoothly.
Sharon explains that full training was given to staff at Park View care home and that the team has found it easy to use. She says that it's been straightforward for them to incorporate it into their day.
The app can usually be set up within two 45-minute calls and a week after the decision to take on myo, the first posts can be sent to relatives. Each staff member has their own profile so that family members can get to know those looking after their relative.
The app can be used via smartphone or tablet and it just needs access to internet to work.
Lessons learnt
Smaller care home providers may need more guidance from the developers to embed this technology if they haven't any previous experience of using digital platforms
When introducing new technology, it's important to note that long-term success will be determined by your ability to encourage behaviour change. The internal culture of a care home has bearing on the successful use of the app
Depending on the way the care provider introduces residents and relatives to the app, the initial take up rate can vary as much as from 50% to 80%. The more personal and direct the approach, the more families will be inclined to join myo from the start.
Costs
As a result of the COVID-19 pandemic, myo is offering the app for free and encouraging care providers to get in touch to talk about how the app can help them during this difficult time.
Further information
For more information about the app visit myo.de/en or contact Richard Böckel on [email protected] 07575 767845.
Back to Success Stories