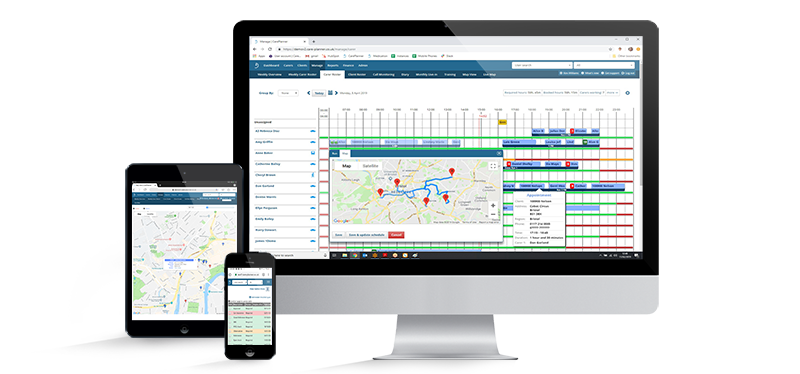 Westmorland Homecare: using digital systems to support admin
Westmorland Homecare is one of the largest homecare services in South Cumbria, rated outstanding by the CQC.
Founded by an A&E doctor and anaesthetist, they set up Westmorland Homecare to help people stay in their homes longer and live independent lives.
The team use a digital system for rota planning, record keeping and supporting carers while on visits.
Background
Co-founder of Westmorland Homecare, Dr Chris Moss, says they were keen to use the right technology to help support them. He says:
"We feel that technology should work alongside you as an aid and not a distraction. There are some good systems out there and you need to find the one that works well for your organisation."
The team use CarePlanner, which automates administration and allows them to manage staff rosters, client schedules, invoicing and timesheets.
The system can be accessed via a web browser on a computer or via a mobile app, meaning you can securely logon from anywhere.
Dr Moss says:
"Electronic systems are so important for continuity of care, supporting staff and clients."
Rota planning and record keeping
The system has a timeline feature where you can drag and drop appointments to an available carer. It automatically tells you the travel time between appointments to support you with scheduling and being efficient.
There are settings to automatically repeat appointments at certain intervals and it recommends which carer to assign. Rotas can then be easily sent to care workers or service users.
The system allows you to keep all documents and records together. They are backed-up and encrypted securely.
A member of the care team at Westmorland Homecare says:
"CarePlanner helps with day to day scheduling tasks, doing this on pen and paper simply would not work."
Carer mobile app
Carers have an app on their phone which gives them access to their appointments and rota. It contains inbuilt mapping and GPS navigation which works like a sat-nav to help them get to their next appointment. This also allows staff in the office to track if they are running late.
Dr Moss says this gives them an extra layer of safety because they know where each carer is at any given time.
The app allows the carer to make notes and confirm the delivery of care when they are at the appointment. They can upload any notes and send messages and photos securely back to the office.
It allows carers to clock in and out of appointments even with no phone signal. It simply syncs when your phone regains a signal.
Advice to other providers
Invest in your IT infrastructure, like computers, phones and laptops. Devices that work efficiently and quickly will help you do your job.
Care is always going to be people-based, but there are tools that can help support you, so look at what is out there.
Use some of the tech you already have, like Microsoft Word and Excel, and make sure you are using all the functions correctly.
For more information
To find out more about Westmorland Care, visit www.westmorlandhomecare.co.uk
For more information about CarePlanner, visit www.care-planner.co.uk
Back to Success Stories